#1 TRUSTED Multi-channel Help Desk Software NABD system enables companies around the world to provide efficient support through advanced workflow capabilities, powerful case management and its simple user interface .
GET STARTED FOR FREE
Your account is being created

---
CRM (customer relationship management) software is a category of software that covers broad set of applications and design software to help business manage customer data and customer interaction and business information. Today's time CRM software is highly scalable and customizable, allowing business to gain actionable customers.
NABD provide CRM software which is used to find leads, follow up with prospectus and nature them through the sales pipeline. When a business use CRM software correctly it can accurate track & organize all current customers and every potential customer that they are in contact with. It is more than just a way of storing customer contact detail and purchase information. CRM software tool allow company to better anticipate customer need while enhancing services. It automates the process of tracking every interaction between a customer and company representative.
Advanced CRM software suites provide a more comprehensive view of customer's relationship with the company.
Advantages of CRM software
Customer details are stored in an easy to access place
Task tracking
More selling opportunities
Improve social media marketing
Determine Individual needs
Integration with existing platforms
Support system
CRM give a professional image to your business
We have discussed how CRM can improve customer relationships & how increased customer satisfaction can benefit your business. But a successful CRM strategy can directly benefit your company.
With CRM software, you can
Increase revenue and referrals from existing customers thanks to increased customer satisfaction and referral management
Close more deals by increasing sales productivity and arming your sales team with the best practice processes and tools.
Improve your products or services by systemically capturing customer feedback and by measuring satisfaction
Reduce systems support costs by moving to more modern cloud-based systems that reduce the need for IT support
Measure and optimize your performance with real-time analytic and dashboards powered by your CRM systems
CRMs are great software for auditing & tracking information. With CRM software an organization can work more effectively. It is also becoming increasingly important among business. The beauty of CRM software is that it can accomplish the task automatically, using just one solution. As a whole CRM software gives you all the tools which is necessary to grow your business.
NABD Company provides CRM software which helps sales force automation and maintains the customer information and receives customer complaints/requirement etc. We specialized in the development of the CRM software solution and have proven record of successfully developing CRM project. Only CRM software is considered as a comprehensive online source of business development that enables business in maintaining record that contains transaction of customer.
---
Get the right technology and tools to satisfy both your customers and staff
UNIFIED DASHBOARD
Boost Agents productivity with prioritized activity work queue. Drive your agents and expert matters users through the case resolution process. This advanced capability takes burden off your agents shoulders and eliminates the need to explore and process cases from traditional cases inbox.
CASE MANAGEMENT
Use the integrated Business process management engine to define your case life cycle and workflow. Define your routing rules and automate the case routing to ensure that cases are routed to their subject matter experts.
24X7 SERVICE CENTER
Provide your customers 24x7 self-service center to submit and track their cases, search for answers in your knowledge base, and rate your support. Customers love to help themselves.
---
What our Happy Clients Say ..
I would like to express my gratitude for the excellent experience I had during implementing NABD with you. The deployment and customization were very easy and brilliant. Thanks very much for this excellent, speedy and professional service .
We are extremely happy with NABD. We are already starting to see the fruits of our efforts in terms of faster response times, improved administration and better reporting. We can for sure recommend NABD to our partners and customers.
The reporting and analysis features in NABD give us the Ability to perform real-time analysis of all data from multiple, distribute department within our organization and also with external entities working with us. Thanks for your efforts to give us such a powerful tool.
We needed an easy-to-use, adaptable system for managing and enhancing customer satisfaction, we used NABD and we exactly found our goal, using the tracking, reminders and follow-up functions our customer service staff have the ability of efficient and effective follow up process to reflect our hotel's customer-centric philosophy.
We wanted to have more efficient and powerful system to manage customer complaints, internal processes, and suppliers' issues. Our old system was built on tracking issues on various Excel spreadsheets which did not meet our goals, with deploying NABD we controlled our processes and suppliers' issues and lowered the number of customer complaints, thereby enhancing customer satisfaction.
NABD far and away the best of the solutions we tested. Its interface is much more user friendly than any of the other systems, and had the critical follow-up and reporting capabilities we need to ensure effective customer service management.
---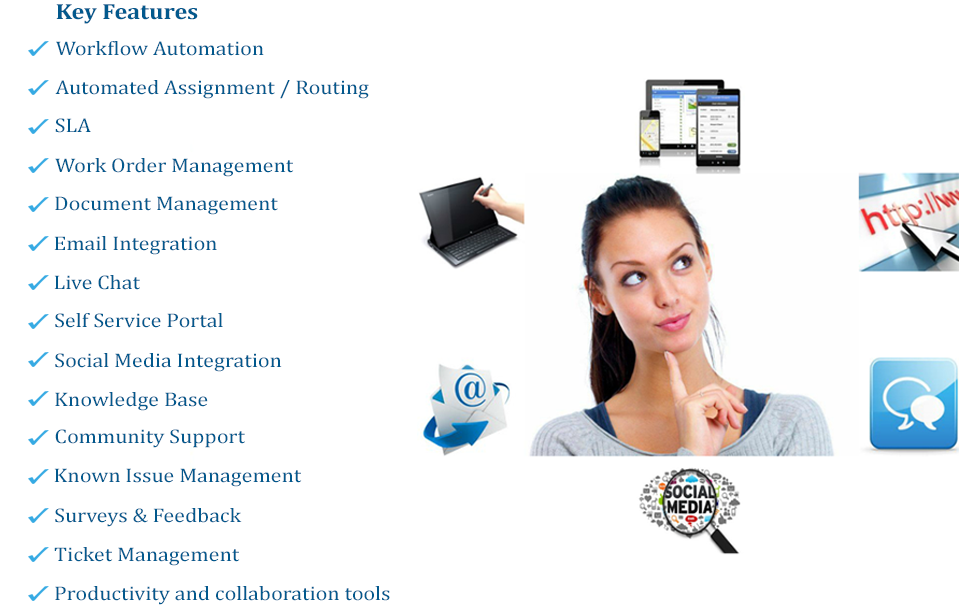 ---

Smartly Listen

Smartly Analyze

Smartly Operate

Smartly Measure

Engage everywhere
Engage all time
Nowadays your customers are always "ON" and expecting that you also are .

Save Time and Reduce Effort
Automate the process of filtering out the noise and identifying the relevant content from all your channels.

Manage service request efficiently
Reduce service resolution time
Customers are waiting for answers so help them get ones quickly by using intelligent knowledge base engine. Manage the service resolution process via business process management and routing engine

Improve your service level
Make informed decision
Track the effectiveness of your customer service with the right metrics, measure performance, customer satisfaction and return on action(ROA)
---
Free
Email support

Knowledge base

Up to 3 users

professional
$ 30
Phone support

Custom reports

Advanced SLA

Enterprise
$ 60
Customized business Process management

Unlimited Mailboxes

24X7 support

---