Help Desk customer service software
GET STARTED FOR FREE
Your account is being created

---
Customer service may be defined as a provision to assist your customers before, during, and after the purchase of a service or product.
The importance of customer service may vary from product to product and from industry to industry however, no one can deny the importance of customer service.
With the changing scenarios and with the emergence of latest technology, the customers are looking ahead to get their requests addressed across different platforms without any delay and thus is increasing the demand for customer service software.
NABD help desk customer service software is all about creating an environment and experience that says, in actions and in words: "I'm here to listen to your pain points, solve your problem, and enhance your experience to exceed your expectation
We at NABD go beyond the traditional Help Desk customer service software and take a personalized approach to every client's needs and thus our customer service software can be easily customized to be in accordance to your business unique processes.
Customer service is not a department; it is a philosophy that includes every person and aspect of your organization. NABD extends the customer service to both your front line agents and subject matter experts.
Your customers behaviour is changing. They are demanding more for less and want world-class products and services and they want it now. If you cannot provide what they want, they will find someone who can. NABD customer service software helps you provide this kind of exceptional customer service to your customer.
We at NABD understand that customer service is the life for your business and thus a very rare opportunity to connect with your customer both emotionally and personally. NABD platform provides you with the next-generation customer service software that fits every business unique needs.
---
Get the right technology and tools to satisfy both your customers and staff
UNIFIED DASHBOARD
Boost Agents productivity with prioritized activity work queue. Drive your agents and expert matters users through the case resolution process. This advanced capability takes burden off your agents shoulders and eliminates the need to explore and process cases from traditional cases inbox.
CASE MANAGEMENT
Use the integrated Business process management engine to define your case life cycle and workflow. Define your routing rules and automate the case routing to ensure that cases are routed to their subject matter experts.
24X7 SERVICE CENTER
Provide your customers 24x7 self-service center to submit and track their cases, search for answers in your knowledge base, and rate your support. Customers love to help themselves.
---
What our Happy Clients Say ..
I would like to express my gratitude for the excellent experience I had during implementing NABD with you. The deployment and customization were very easy and brilliant. Thanks very much for this excellent, speedy and professional service .
We are extremely happy with NABD. We are already starting to see the fruits of our efforts in terms of faster response times, improved administration and better reporting. We can for sure recommend NABD to our partners and customers.
The reporting and analysis features in NABD give us the Ability to perform real-time analysis of all data from multiple, distribute department within our organization and also with external entities working with us. Thanks for your efforts to give us such a powerful tool.
We needed an easy-to-use, adaptable system for managing and enhancing customer satisfaction, we used NABD and we exactly found our goal, using the tracking, reminders and follow-up functions our customer service staff have the ability of efficient and effective follow up process to reflect our hotel's customer-centric philosophy.
We wanted to have more efficient and powerful system to manage customer complaints, internal processes, and suppliers' issues. Our old system was built on tracking issues on various Excel spreadsheets which did not meet our goals, with deploying NABD we controlled our processes and suppliers' issues and lowered the number of customer complaints, thereby enhancing customer satisfaction.
NABD far and away the best of the solutions we tested. Its interface is much more user friendly than any of the other systems, and had the critical follow-up and reporting capabilities we need to ensure effective customer service management.
---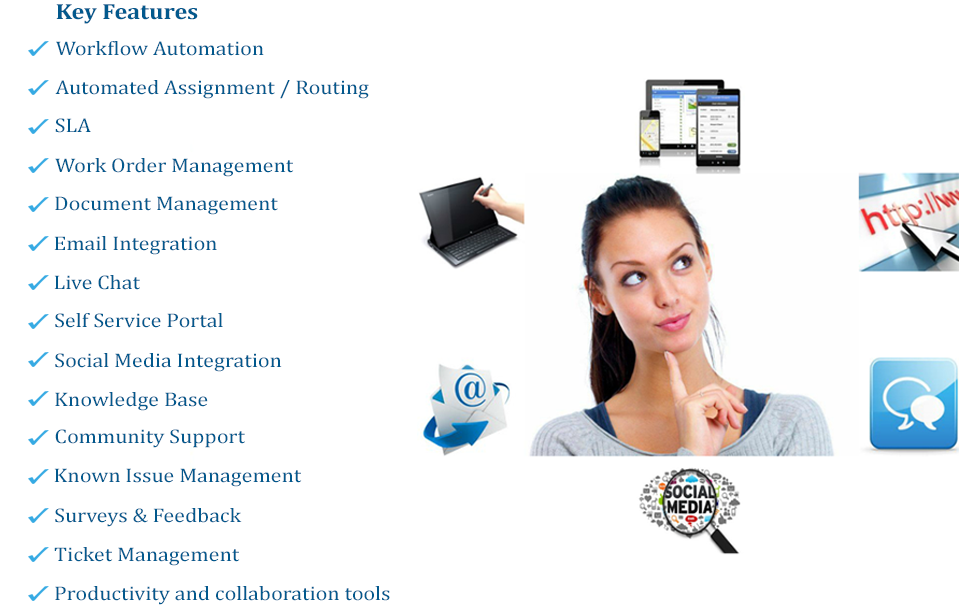 ---

Smartly Listen

Smartly Analyze

Smartly Operate

Smartly Measure

Engage everywhere
Engage all time
Nowadays your customers are always "ON" and expecting that you also are .

Save Time and Reduce Effort
Automate the process of filtering out the noise and identifying the relevant content from all your channels.

Manage service request efficiently
Reduce service resolution time
Customers are waiting for answers so help them get ones quickly by using intelligent knowledge base engine. Manage the service resolution process via business process management and routing engine

Improve your service level
Make informed decision
Track the effectiveness of your customer service with the right metrics, measure performance, customer satisfaction and return on action(ROA)
---
Free
Email support

Knowledge base

Up to 3 users

professional
$ 30
Phone support

Custom reports

Advanced SLA

Enterprise
$ 60
Customized business Process management

Unlimited Mailboxes

24X7 support

---