NABD Customer Support Software
---
Help Desk Customer Support Software
NABD's Help Desk Customer Support Software is highly appropriate in delivering support to your customers through integrated communication network and strategically planned support system that makes you achieve effective management of cases. NABD's methodological dashboard is oriented towards accelerating your response time through our Help Desk Customer Support Software. You can quickly implement our solution for solving and addressing customer related support queries. Our Customer Support Software ensures that everyone in your organizational hierarchy can analyze and contribute in the conversations with your customers via NABD centrally managed platform.
Assurance of best way of direction
NABD's Help Desk Customer Support Software purports you to provide best possible way of guidance to your customers through the usage of a variety of templates, establishing live chats with your customers, also enabling you to perform support tasks through social networking sites. NABD Customer Support Software is different. You can select the needful way of giving support to your customers from the extensive support options. You can deploy an integrated communication channels through our various online support options immediately.
Selecting support options according to preferences
NABD's Help Desk Support Software system offers your customers to choose any desired way of inquiring about products, submission of cases and to review previous case histories shifting effortlessly between networks. The customers can inquire through Knowledge Base, submit and track case requests, social media channels, via e-mails or live chat support system with agents.
Managing cases strategically
You can arrange your priorities chronologically as per your customers' needs through NABD Customer Support Software. You can deal with the case resolution processes systematically keeping in mind the necessities of your clients. This benefits you in maintaining and managing the cases in a streamline, which can be accessed by your subordinates and supervisors of your organization. NABD Customer Support Software is devised to unburden your workload by substantiating easily comprehensible guidelines on using the software. Our customer software focuses in building a continuous conversational network issuing automated acknowledgements to customers assuring them your attention. NABD Help Desk Customer Support Software assists you to connect with customers' psychology and processing quick deliverance of responses and feedbacks
---
Get the right technology and tools to satisfy both your customers and staff
UNIFIED DASHBOARD
Boost Agents productivity with prioritized activity work queue. Drive your agents and expert matters users through the case resolution process. This advanced capability takes burden off your agents shoulders and eliminates the need to explore and process cases from traditional cases inbox.
CASE MANAGEMENT
Use the integrated Business process management engine to define your case life cycle and workflow. Define your routing rules and automate the case routing to ensure that cases are routed to their subject matter experts.
24X7 SERVICE CENTER
Provide your customers 24x7 self-service center to submit and track their cases, search for answers in your knowledge base, and rate your support. Customers love to help themselves.
---
What our Happy Clients Say ..
I would like to express my gratitude for the excellent experience I had during implementing NABD with you. The deployment and customization were very easy and brilliant. Thanks very much for this excellent, speedy and professional service .
We are extremely happy with NABD. We are already starting to see the fruits of our efforts in terms of faster response times, improved administration and better reporting. We can for sure recommend NABD to our partners and customers.
The reporting and analysis features in NABD give us the Ability to perform real-time analysis of all data from multiple, distribute department within our organization and also with external entities working with us. Thanks for your efforts to give us such a powerful tool.
We needed an easy-to-use, adaptable system for managing and enhancing customer satisfaction, we used NABD and we exactly found our goal, using the tracking, reminders and follow-up functions our customer service staff have the ability of efficient and effective follow up process to reflect our hotel's customer-centric philosophy.
We wanted to have more efficient and powerful system to manage customer complaints, internal processes, and suppliers' issues. Our old system was built on tracking issues on various Excel spreadsheets which did not meet our goals, with deploying NABD we controlled our processes and suppliers' issues and lowered the number of customer complaints, thereby enhancing customer satisfaction.
NABD far and away the best of the solutions we tested. Its interface is much more user friendly than any of the other systems, and had the critical follow-up and reporting capabilities we need to ensure effective customer service management.
---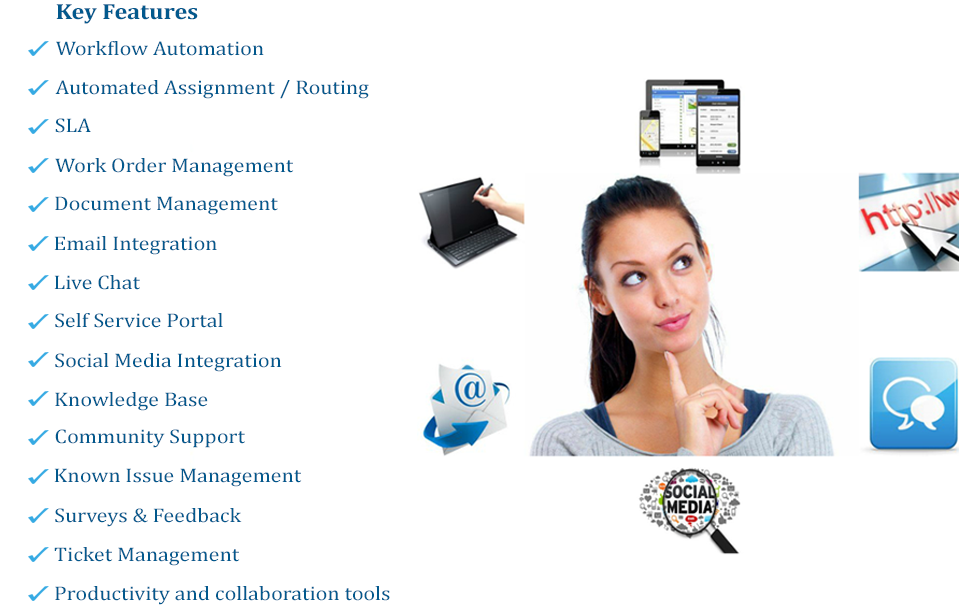 ---

Smartly Listen

Smartly Analyze

Smartly Operate

Smartly Measure

Engage everywhere
Engage all time
Nowadays your customers are always "ON" and expecting that you also are .

Save Time and Reduce Effort
Automate the process of filtering out the noise and identifying the relevant content from all your channels.

Manage service request efficiently
Reduce service resolution time
Customers are waiting for answers so help them get ones quickly by using intelligent knowledge base engine. Manage the service resolution process via business process management and routing engine

Improve your service level
Make informed decision
Track the effectiveness of your customer service with the right metrics, measure performance, customer satisfaction and return on action(ROA)
---
Free
Email support

Knowledge base

Up to 3 users

professional
$ 30
Phone support

Custom reports

Advanced SLA

Enterprise
$ 60
Customized business Process management

Unlimited Mailboxes

24X7 support

---